German factory output falls as supply chain problems deepen – business live | Business
Good morning, and welcome to our rolling coverage of the world economy, the financial markets, the eurozone and business.
Output at German factories has fallen unexpectedly, as supply chain bottlenecks and shortages of key parts and materials such as computer chips threaten to undermine the recovery.
German industrial production fell by 1.0% in April, the Federal Statistics Office reports this morning.
That's shy of forecasts of a 0.5% rise, as Europe's largest economy looked to recover from its contraction earlier this year.
Production of consumer goods slumped by 3.3% – even though some households are expected to be spending heavily this summer as lockdowns restriction are lifted.
Production of intermediate goods (items used in final products) fell 0.2%, while production of heavy duty capital goods decreased by 0.1%.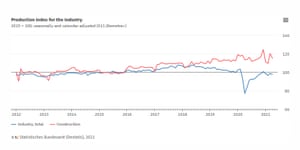 March's growth was revised down too, from +2.5% to +2.2%.
It means production at German factories is still 5.6% below its pre-pandemic levels, despite the pick-up in the global economy this year.
Factory bosses have been warning of shortages of semiconductors, plastics, rubber and metals, with suppliers hiking prices in response.
These shortfalls are threatening to undermine the recovery from last year's economic slump, and are also pushing prices higher as firms try to recoup their costs.
Yesterday we learned that German factory orders fell in April, indicating that the problems may last for some time.
Semiconductor shortages are a particular problem, which has already hit car production this year. Those shortages are expected to run into next year, as ramping up chip fabrication plants takes time. Tesla is reportedly considering buying its own chip plant, to guarantee supplies.
Bosch, Europe's largest auto supplier, says car manufacturers must put "money on the table" and make a "rock solid" commitment to orders,
Bosch board member Harald Krüger told the Financial Times.



"The only way to get out of [the recent crisis] is to have a different level of commitment"
Bosch opened a €1bn semiconductor plant in Dresden yesterday, to produce chips for its power tools in July, before beginning production on automotive chips in September.
That might help to ease the chip shortage, though as Krüger says….



"Money needs to be put on the table and actually parts have to be bought.

"The commitment needs to be rock solid that those parts will be bought. It can't be: 'Maybe I [will] buy them, prepare for it, and maybe not.' This doesn't work."
The agenda
8.30am BST: Bank of England to publish details of its 2021 climate change stress test
10am BST: ZEW index of German economic sentiment
10am BST: Eurozone Q1 GDP and employment figures (final estimate)
11am BST: US NFIB business optimism index
1.30pm BST: US trade balance for April
3pm BST: US JOLTS index of job openings