Inflation fears ease as commodity prices fall back – business live | Business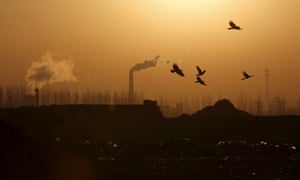 Good morning, and welcome to our rolling coverage of the world economy, the financial markets, the eurozone and business.
Inflation fears are easing today as commodity prices fall back from their recent peaks.
In China, iron ore futures have tumbled for the second day running, down over 9%, with steel prices also sliding on signs of a clampdown by Chinese authorities.
Prices dropped after officials in the city of Tangshan, a key steel producer, warned factories to maintain market order.
They warned that any factories engages in illegal acts — such as collusion, manipulating prices, fabricating information, hoarding or driving up prices — would be "strictly investigated and dealt with in accordance with laws and regulations."



If the circumstances are serious, it shall be ordered to suspend business for rectification, or its business license shall be revoked and publicly exposed.
This knocked steel prices by around 6%, with traders also anticipating weaker demand for iron ore and coke.
Other commodity prices are also cooling, with copper dipping back from its record highs.
Oil is also weaker, with crude prices dropping the most in a month yesterday. Brent crude is back below $67 per barrel, for the first time since the start of May.
So after a turbulent week dominated by worries about inflation, the markets seem to be finishing on a calmer note today.
Wall Street rallied last night, and European markets are expected to make gains this morning.
Yesterday, Bank of England governor Andrew Bailey tried to calm anxiety about rising prices, after US inflation hit a 13-year high last month.



"So the really big question is, is [higher inflation] going to persist or not? Our view is that on the basis of what we're seeing so far, we don't think it is."
US central bank policymakers have also been insisting that they're in no hurry to raise interest rates.
As Jim Reid of Deutsche Bank sums up:



Richmond Fed President Barkin said that he didn't see persistent recurring inflation as likely, while later on Fed Reserve governor Waller joined the chorus saying that the rise in prices is "temporary".

This comes even as he forecasts inflation remaining above the 2% target through 2022, though he acknowledged that persistent 4% monthly increase would be "very concerning". Waller wants to observe a few months of economic data before calling any point an outlier or adjusting any policy stances.
The US economy will be under the microscope again later, with new data on retail sales, factory output and consumer sentiment.
The agenda
12.30pm BST: ECB monetary policy meeting accounts published
1.30pm BST: US retail sales for April – expected to rise by 1%, down from 9.8% in March
2.15pm BST: US industrial production data for April – expected to rise by 1%, down from 1.4% in March
3pm BST: University of Michigan consumer sentiment index for May – expected to increase to 90.4, from 88.3