New infrastructure isn't seen as priority by Americans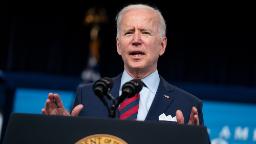 Numerous polls have asked Americans about their priorities and infrastructure comes out low.
Just 32% said improving the country's roads, bridges and public transportation systems should be a top priority for Biden and Congress, according to a
January Pew Research Center poll
. That ranked second to last among 19 items asked about in the poll. For comparison, strengthening the economy and dealing with the pandemic were first and second, respectively.
A
January Monmouth University poll
came to a similar finding. It tested 15 areas for the federal government to address, and a mere 17% said transportation and energy infrastructure was extremely important. That was dead last in the poll. Again, the pandemic and the economy were at or near the topic of the list.
Now, this isn't to say the infrastructure plan will necessarily hurt Biden's popularity. Right now, more Americans support than oppose the bill.
A
Reuters/Ipsos poll
taken last week showed that 45% backed the bill, while 27% opposed it. A lot of folks (28%) simply were undecided.
An average of polls on the topic does find support a bit higher, with 54% favoring the bill to 23% opposing it. Nearly a quarter of the electorate was neither in favor nor opposed.
A 54% opening favorability for a bill is good, but it's not close to the type of support Biden was getting for his coronavirus relief package. It's also about equal to Biden's overall job approval rating of around 55%.
Among these same pollsters, Biden's Covid relief bill was far more popular than he was, with an average of 66% support to 19% opposition, with just 15% undecided.
The higher number of undecideds in the infrastructure bill makes sense. Unlike with coronavirus relief, infrastructure is not at the top of most Americans' minds. The higher number of undecideds may also be an indication that opinions on the subject may be less entrenched than they were when it came to Biden's Covid relief bill.
Moreover, the data suggests that those who are undecided are disproportionately Republican. This could mean that opposition might jump up as Republicans speak out against the bill.
The good news for Biden is he may not need any GOP votes to pass his infrastructure package. Democrats control the House, and the Senate parliamentarian is of the belief that
they could potentially use reconciliation
(i.e. needing a simple majority of Senate votes) to pass future bills. If they are able to use it for the infrastructure bill, Democrats have the votes in the House and Senate, as long as they don't have any defections.
That's why it'll be important to watch more moderate Democratic senators to see whether they waver. The lack of import that most voters are putting on infrastructure could work to their advantage.
If most Americans aren't basing their votes on whether this infrastructure bill passes or not, there's likely a better chance that Democrats will toe the party line on a package important to the President.