Banks brace for fallout from Archegos implosion – business live | Business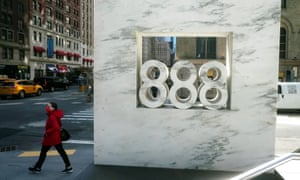 Good morning, and welcome to our rolling coverage of the world economy, the financial markets, the eurozone and business.
The shock implosion of Archegos Capital is weighing on the markets today.
How many billions of dollars will be lost, and how could a single, obscure family office could run up such huge, leveraged positions — and trigger a meltdown that gripped Wall Street, the City, and other financial markets across the globe?
The news that Archegos had melted down after failing to meet a flurry of margin calls from its prime lenders captured global attention yesterday, with Nomura and Credit Suisse both admitting that they faced significant losses.
Overnight, Archegos, run by investor Bill Hwang, has broken its silence.
In a statement, company spokesperson Karen Kessler said:



"This is a challenging time for the family office of Archegos Capital Management, our partners and employees.

All plans are being discussed as Mr. Hwang and the team determine the best path forward."
It's a challenging time for Archegos's brokers too. Reuters is reporting that global banks may lose more than $6 billion from the debacle.
It all began when shares in ViacomCBS, a media company heavily backed by Archegos with borrowed money, slumped last week after it issued new stock. That prompted calls lenders to seek more collateral from Archegos to support its leveraged positions.
When it couldn't meet those margin calls, the prime brokers started to wind up the trades in a $20bn fire sale — with Nomura and Credit Suisse seemingly suffering the bunt of the damage (their shares both slumped yesterday).
As Jim Reid of Deutsche Bank explains:



The most severe impact was actually experienced by non-US banks, with Nomura (-16.33%) seeing its largest daily move lower ever and Credit Suisse (-13.83%) experiencing its worst performance in over a year,
Regulators are also watching the situation closely, concerned about the knock-on impact of the forced liquidation of Archegos.
The US Securities and Exchange Commission on Monday said it had been "monitoring the situation and communicating with market participants since last week".
Japan's chief cabinet secretary, Katsunobu Kato, said the Japanese government was carefully monitoring the situation at Nomura and that the Financial Services Agency would share information with the Bank of Japan.
The Swiss financial regulator, Finma, said it was also monitoring the situation, and warned that several banks and locations internationally were involved.
As a 'family office' (basically managing founder Bill Hwang's own money), Archegos didn't have to meet the usual regulatory disclosures which hedge funds must meet.
And traders are hopeful that the fund's collapse won't cause a wider crisis.
As Kyle Rodda of IG puts it:



Market commentary remains fixated on the drama surrounding the collapse of Archegos Capital Management in the US, as market participants attempt to pick apart the impacts of the failure and the potential for greater financial contagion.

For all the concern however, for the time being, other than some localized pain in some major financial stocks, especially in Japan, where that country's equities have struggled in the face of the episode, risks on a systemic scale still appear to be low.
But even if the short-term damage can be contained, the episode has shoved hedge funds, and their use of leveraged positions, firmly into the spotlight. Investment banks may well tighten their lending limits, which could force some hedge funds to cut back on riskier positions.
Investors will also be keeping a wary eye on the bond market, where US Treasury yields are rising again. That's a sign the markets are anticipating higher inflation, growth, and more pressure on central banks to wind back their stimulus measures.
Also coming up today
It's quite a busy day for economics data.
New consumer confidence data from France, and the wider eurozone, will show how the rise in Covid-19 cases and slow vaccine rollout is affecting morale. Plus, new inflation data from Germany and Spain are likely to show that prices jumped this month, partly driven by energy pices.
This afternoon, the latest US house price survey is likely to show another rise, while consumer confidence in the States may also have risen.
The agenda
7.45am BST: French consumer confidence for March
8am BST: Spanish inflation and retail sales data
10am BST: Eurozone consumer and business confidence report for March
1pm BST: German inflation data for March
2pm BST: US house price index for January
3pm BST: US consumer confidence report for March