Credit Suisse and Nomura warn of losses after hedge fund fire sale – business live | Business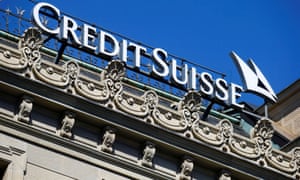 Good morning, and welcome to our rolling coverage of the world economy, the financial markets, the eurozone and business.
Investors are bracing for volatility this week after a US investment fund, Archegos Capital, was forced to liquidate billions of dollars worth of positions after being hit by margin calls.
Archegos's move triggering wild volatility in parts of the markets, and warnings from Japanese bank Nomura and Switzerland's Credit Suisse this morning that they will suffer losses as a result.
Last Friday, Wall Street was rocked by the mysterious sale of major stakes in Chinese technology giants and US media companies – including ViacomCBS, which slumped 26%, and Discovery which tumbled 27%. The scale of the slump triggered suspicious that a large investor had hit trouble and was being forced to sll.
And over the weekend, private investment firm Archegos Capital has emerged as the firm behind the sales.
It appears that Archegos was hit by hefty margin calls as its positions turned sour, creating a knock-on effect as other lenders then demanded their money back too.
Archegos is a "family office," which manages the private wealth of hedge fund manager Bill Hwang.
As the Financial Times explains,



The fund, which had large exposures to ViacomCBS and several Chinese technology stocks, was hit hard after shares of the US media group began to tumble on Tuesday and Wednesday.

The declines prompted a margin call from one of Archegos' prime brokers, triggering similar demands for cash from other banks, said people familiar with the matter.

Traders buying the large blocks of stock were told the share sales had been prompted by a "forced deleveraging" by a fund. Archegos is a family office that manages the wealth of Bill Hwang, a "Tiger cub" alumnus of Julian Robertson's legendary hedge fund Tiger Management.
Investors are now pondering whether Archegos's fire sales are over, and whether its crisis will have wider ramifications – particularly on other funds with highly leveraged positions (making them vulnerable to margin calls if the markets move against them).
And already today, two financial institutions have flagged that they have been hit.
Japan's Nomura Holdings warned that it faces a "significant loss", of perhaps $2bn, from transactions with an unnnamed US client.
Nomura says it is still evaluating the extent of the possible loss, and the impact on its results, and also canceled plans to sell dollar-denominated bonds while it works through the maths.
The news sent Nomura's shares sliding over 16% in Tokyo.
Credit Suisse is also caught up in the fallout.
It warned this morning that "a US hedge fund client" had failed to meet its margin calls, adding that the resulting loss could be " highly significant", and likely to hit its first-quarter results.
Traders will also be watching the Suez Canal closely today, where days of efforts to shift the huge container ship MV Ever Given are finally starting to pay off.
The Ever Given is reportedly been shifted, nearly a week after blocking the waterway, and creating a major backlog of shipping vessels. This has raised hopes that the 200,000-tonne vessel could be fully freed soon.
The agenda
9.30am BST: UK mortgage approvals and consumer credit in February
3.30pm BST: Dallas Fed Manufacturing index for March