Travel to Hawaii during Covid-19: What you need to know before you go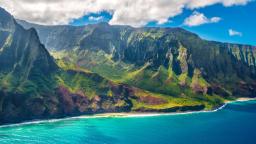 The basics
What's on offer
Hawaii's geographical position and proud history make it unlike anywhere else in the United States.
Who can go
Travelers from the United States, Canada, Japan and South Korea are allowed to bypass Hawaii's mandatory 10-day quarantine on most islands by following strict pre-travel testing rules (see below).
What are the restrictions?
Hawaii's travel restrictions are evolving rapidly.
For air travelers entering Hawaii from abroad, getting a specific type of test — a Nucleic Acid Amplification Test (NAAT) — from one of Hawaii's approved Trusted Testing Partners will be particularly important because some tests accepted under the new US testing requirement that went into effect on January 26 would not allow travelers to bypass Hawaii's quarantine.
Kauai has a shortened three-day quarantine option for travelers arriving from out of state who participate in a"resort bubble" program.
The Safe Travels program randomly invites travelers to participate in a voluntary secondary test three to four days after arrival.
What's the Covid situation?
What can visitors expect?
Restrictions vary by island, although there is a statewide mask mandate — they must be worn whenever out in public.
This means increased numbers in social gatherings are allowed — from no more than five people previously, to now no more than 10. Other new relaxed allowances:
— Groups of 10 people are allowed in restaurants regardless of household or living unit, and the capacity limit of 50% of legal occupancy is gone.
— Commercial recreational boating is allowed up to 50% capacity.
— Helicopter tours, plane tours and skydiving are allowed with groups of up to 10 people.
— Bars are allowed to to serve alcohol until midnight.
Useful links
Our recent coverage
Joe Minihane, Julia Buckley, Marnie Hunter and Forrest Brown contributed to this report