Bakery chain Greggs posts first loss since 1984 as pandemic hits sales – business live | Business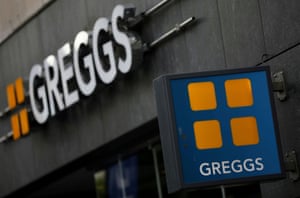 Good morning, and welcome to our rolling coverage of the world economy, the financial markets, the eurozone and business.
British baker and fast food retailer Greggs has underlined the impact of Covid-19 on the UK high street this morning, by reporting its first ever loss as a listed company.
Greggs, well-known for its steak bakes, sausage rolls and recent vegan offerings, made a pre-tax loss of £13.7 million for 2020. That's down on a pre-tax profit of £108m in 2019.
It's the first time Greggs has posted an annual loss since it floated on the London stock markets back in 1984.
Greggs was forced to close its stores in the first lockdown a year ago, and then reopened last summer. But social distancing measures, and restrictions keeping customers at home, hit sales hard.
Total sales across Greggs stores fell by 30.5% during the year, while like-for-like sales slumped by over 36%.
Greggs has moved to online – partnering with Just Eat to offer deliveries of its baked goods just before the pandemic – which helped to keep sales moving in the pandemic.
And encouragingly, the firm says that trading so far this year was better than expected.
Chairman Ian Durant says Greggs rose to the "most formidable of challenges in 2020", and is recovering well.



With lower-than-normal sales levels Greggs made a loss in 2020; the first time in its history as a listed business. Government support has been essential to mitigate the impact of Covid and protect as many jobs as possible through this period.

Shareholders have made a significant contribution, forgoing dividends and accepting reduced investment in the business, and there has been terrific support from our employees.
The impact on staff has been hard. Last November, Greggs announced that over 800 jobs were being cut, due to the pandemic's hit to sales.
Yesterday, another high street stalwart Thorntons announced plans to close its 61 chocolate stores, threatening 600 jobs, and further highlighting economic cost of the pandemic.
Also coming up today
European stock markets are on track to open higher, despite several major EU member states halting their rollouts of the Oxford-AstraZeneca jab in recent days.
Health experts insist there's no evidence of a link between the vaccine and a small number of blood clots reported among those receiving the jab.
As our health editor Sarah Boseley explained:



Experts say that the numbers of blood clots and thrombocytopenia cases in people who have been vaccinated is no higher than in the population that has not received the jab. The International Society on Thrombosis and Haemostasis, representing medical experts around the world, said on Friday that "the small number of reported thrombotic events relative to the millions of administered Covid-19 vaccinations does not suggest a direct link".

Blood clots are common, they said, but not more common in people who have had a Covid jab, from evidence so far. They recommended that even people with a history of blood clots or taking blood-thinning drugs should go and get their vaccination.
On the economic front, February's US retail sales figures are likely to show a slowdown after a burst in January, while economic optimism in Germany may have picked up.
Michael Hewson of CMC Markets explains.



With the DAX hitting record highs last week, it can safely be assumed that investor sentiment is fairly bullish this month with the latest German ZEW expectations survey set to rise to 74, from 71.2 in February.

We also have the latest February retail sales data for February, which could well struggle to live up to the rebound seen in January.

When it comes to the last 12 months of US consumer spending, its resilience has largely been driven by the US government and the issuance of stimulus payments.
The agenda
10am GMT: ZEW survey of German economic sentiment
12.30pm GMT: US retail sales for February
1.15pm GMT: US industrial production for February
2pm GMT: US NAHB Housing market index