Microsoft Edge Legacy will now prompt you to install Chromium Edge

Microsoft Edge Legacy has officially reached the end of life today, and starting tomorrow, the web browser will begin displaying notifications telling users to switch to the new Chromium-based Microsoft Edge.
Starting March 10th, 2021, users who still use Microsoft Edge Legacy will be shown a notification at the bottom of the screen stating:
"This version of Microsoft Edge is no longer supported or receiving security updates. Download the new version of Microsoft Edge today."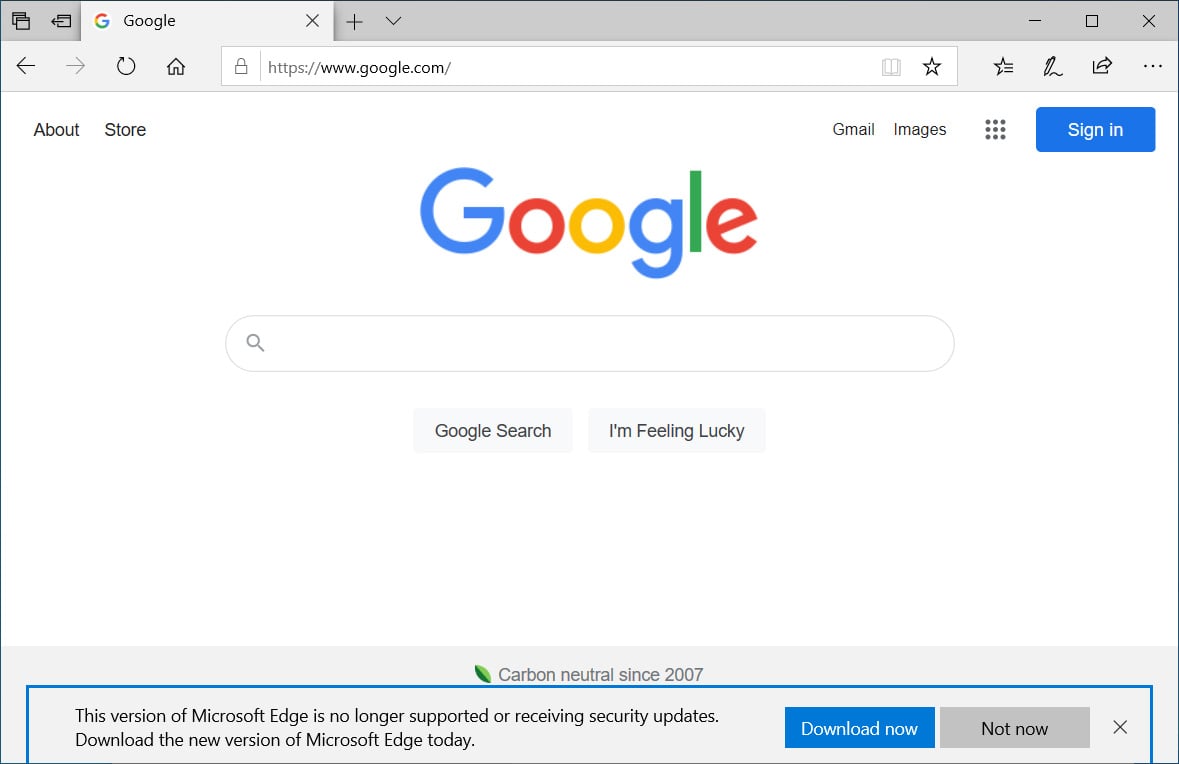 When users click on the Download now button, the browser will open the https://www.microsoft.com/en-us/edge webpage, and users will be prompted to download the new Chromium-based Microsoft Edge.
If a user clicks on the 'Now now' button, Edge will create the 'LastShownTimeStamp' Registry value that contains the timestamp of when you clicked the button, as shown below.
Windows Registry Editor Version 5.00
[HKEY_CURRENT_USERSOFTWAREClassesLocal SettingsSoftwareMicrosoftWindowsCurrentVersionAppContainerStoragemicrosoft.microsoftedge_8wekyb3d8bbweMicrosoftEdgeEdgeDeprecation]
"LastShownTimeStamp"=hex:ea,7b,dc,bb,ff,15,d7,01
It is not known how much time has to go by before a notification is shown again.
Suppressing Edge end of life notifications
If you wish to suppress the Edge deprecation notifications, Microsoft added a new Group Policy with the March 2021 cumulative updates that you can use to turn them off.
This new policy is called 'Suppress the display of Edge Deprecration Notification" and is found under Computer Configuration > Administrative Templates > Windows Components > Microsoft Edge.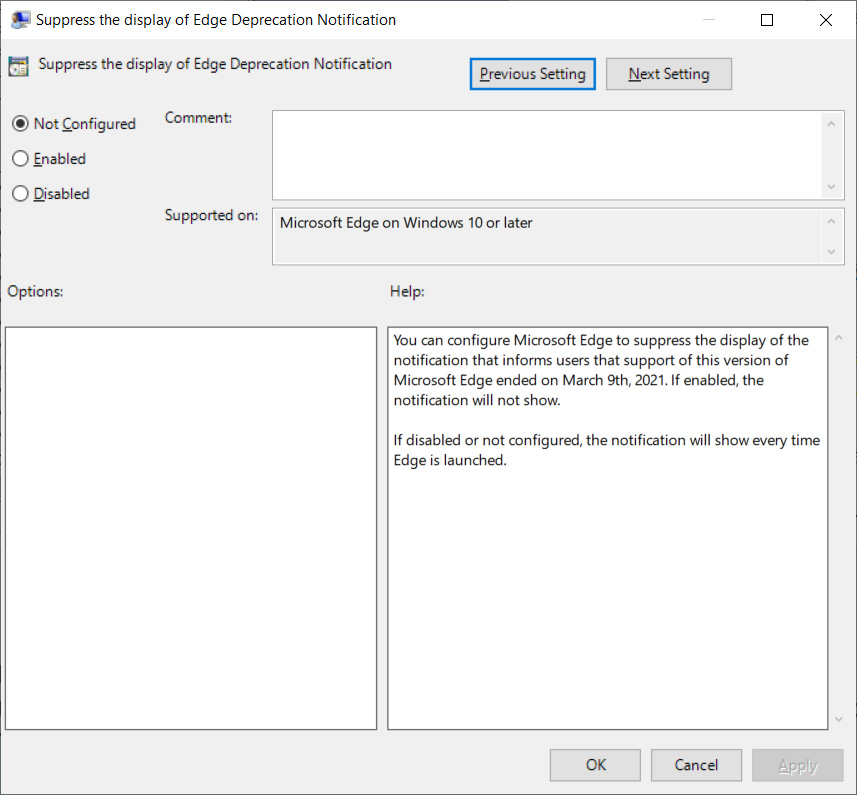 Once enabled, Microsoft Edge legacy will no longer display the notification in the browser.
This policy's use is short-lived, though, as, on April 13th, 2021, Microsoft's Patch Tuesday will automatically install an update that removes Microsoft Edge Legacy and replaces it with the new Chromium-based Microsoft Edge.