UK business confidence at 12-month high; Brent crude hits $70 – business live | Business
Good morning, and welcome to our rolling coverage of the world economy, the financial markets, the eurozone and business.
After an extremely tough 12 months, Britain's services companies are feeling more optimistic about their future prospects, thanks to the UK's rapid Covid-19 vaccination programme. Service sector confidence jumped in February to its highest level since the pandemic began, according to the latest Business Trends report from accountancy and business advisory firm BDO LLP.
BDO's Services Optimism Index rose to 94.13 in February from 86.60 in January, back towards the long-term average of 100.
That's the highest reading in 12 months for the survey, which covers a range of industries from retail and hospitality to professional services. Overall, services is around three-quarters of the economy.
BDO's report suggests that business confidence was rising even before Boris Johnson laid out the four-stage plan to reopen the UK economy, under which non-essential shops could open on April 12,
The continued success of the UK's vaccination rollout programme led to a significant rise in services sector confidence in February, according to Kaley Crossthwaite, Partner at BDO LLP, who says:



"The speed of the vaccine rollout across the UK has given businesses a much-needed shot of relief."
By the end of February, more than 20 million Britons have received their first coronavirus vaccine dose, boosting hopes of an economic recovery this summer.
Crossthwaite reckons the government's latest business support packages will help too:



"With business lifelines extended in the shape of the prolonged furlough scheme, and an extra dose of support provided to hospitality via extensions in business rates relief and the VAT cut to 5%, there is reason to believe this optimism can be sustained as we gradually emerge from the depths of lockdown."
But, factory bosses aren't feeling as optimistic, with BDO's Manufacturing Optimism Index dipping slightly to 83.99 in February.
BDO says that continued "Brexit border tensions" are offsetting manufacturers' optimism over the vaccine rollout.
A separate survey from the Centre for Economic and Business Research and YouGov has also shown that household and business confidence has jumped to a one-year high. Their consumer confidence index jumped to 105.4 last month, up from 103.4.
The Times has the details:



"The latest rise in the consumer confidence index underlines the resilience of households throughout this third national lockdown," Kay Neufeld, head of forecasting at the Centre for Economics and Business Research, said.

"With a road map for the gradual reopening of the economy now published, we expect the positive consumer sentiment to further aid in the recovery over the coming months."

The rebound in consumer confidence was driven by greater optimism about the prospects for businesses. The sub-index for business activity rose by a record 5.4 points to 124. This fed through into greater confidence about the jobs market, with the index for job security over the coming year rising by 0.9 points to 112.2.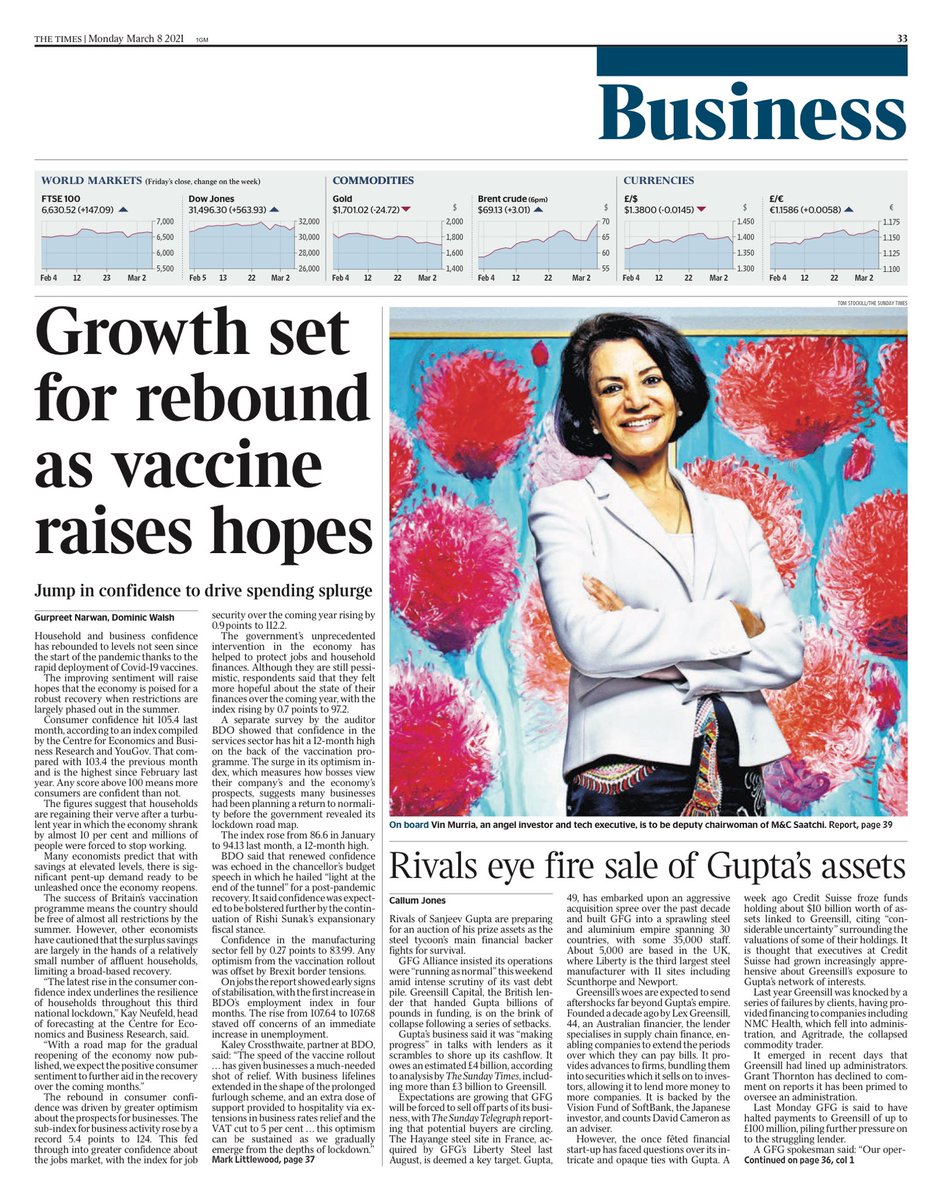 Also coming up today
The Bank of England governor, Andrew Bailey, will give his view on the UK's economic outlook. He'll be speaking at a Resolution Foundation event, which will examine the lasting impacts of the pandemic, and how monetary and macro-prudential policy can help create a strong and sustainable recovery.
New industrial production figures from Germany and Spain will show how European factories fared in January.
European stock markets are due to open sharply higher, with the FTSE 100 on track to jump almost 1%. Last week was pretty volatile, particularly on Wall Street, where tech stocks fell sharply – before strong US jobs figures triggered a late rally.
The agenda
7am GMT: German industrial production for January
8am GMT: Spanish industrial production for January
10am GMT: Bank of England governor Andrew Bailey speaks on the UK economic outlook
3pm GMT: US wholesale inventory figures for January