Joey Barton: 'Somebody is going to get Rovers right. I think I'm the man for it' | Bristol Rovers
"I'm a baby in coaching terms," says Joey Barton a few hours into his tenure at Bristol Rovers, his second managerial job. "I stopped playing and went straight into this. I didn't really do an apprenticeship, I went into a head coach role [at Fleetwood Town] and you're flying by the seat of your pants. You jump into the deep end and you've got to be able to swim and I think in the last two and a half years I have shown that we can do that and more."
Rovers are in a perilous position after one win from their past 12 matches and among a clutch of teams dangling two points above the League One relegation zone. Upon leaving Fleetwood after nearly three years in charge last month, Barton could have watched the rest of the season unfold from the comfort of the sofa but wanted to get involved at Rovers. "They have been starved of success compared to some of the big-city clubs locally and even in south Wales further up the pyramid," he says. "Somebody, at some point, is going to get Rovers right, mobilise that passionate fan base and get the supporters travelling across the country pushing their team on to bigger and better things. I think I'm the man for it. I'm absolutely convinced it's going to be this group of players we've got here and this group of coaches."
Barton is talking on the afternoon after his first training session as Rovers manager but, towards the end of a whirlwind day, rows back to his first memory of the club, watching a FA Cup fourth-round meeting against Liverpool at Twerton Park, with almost instant recall. "As an Evertonian, it was when Carl Saunders scored against Bruce Grobbelaar to force a replay against Liverpool in 1992. I remember being a Rovers supporter, mainly because I supported everyone that played against Liverpool at that time. They lost in the replay at Anfield but for those two nights I was certainly a Rovers supporter and I'm definitely one now. For me this is a fantastic opportunity."
Barton, who has signed a contract until 2023, will again be assisted by Clint Hill, his former Queens Park Rangers teammate. "I think this is the logical next step for myself and my coaching team, to take over a city club rather than a town club," Barton says, referencing Rovers' average attendance of around 8,000, in normal times. "If we can get the blue half of the almost 500,000 people who live in Bristol mobilised and behind their team and walking round the city with the shirt on, the quarters on, shoulders back, proud of the team they go to watch on a matchday, then that will be success for me."
Staving off relegation to League Two is a world away from Manchester City and Marseille, for whom he played, but the potential of the club, which moved into a new training ground in October and has grand plans under the Jordanian owner, Wael al-Qadi, enticed Barton. Rovers, who dropped into non-league in 2014, have not played in the second tier since 1993.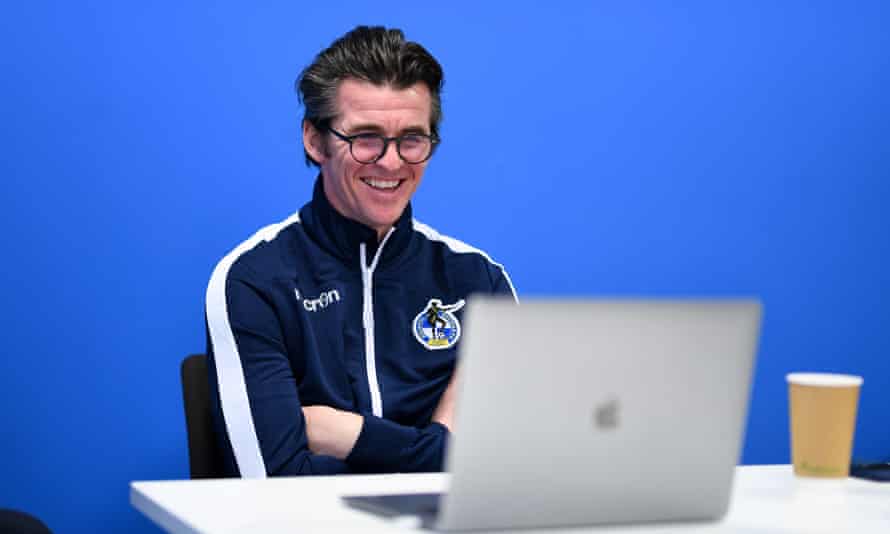 "I grew up in Liverpool, a port city very similar to Bristol in many regards, with a blue team and a red team. The red team has historically been more successful than the blue but if you look at Sunday [Everton's derby win] the blue team looks like they're going to be more successful than the red this season. I just look at the possibilities of what could happen here, stuff that, no disrespect to Fleetwood, they just couldn't do because of the footprint it has on the football map."
Behind the black-rimmed glasses, there is a colourful and clever personality and, on a couple of occasions, he stops short of going down the route of directly comparing Rovers with neighbours Bristol City and instead references Nigel Pearson's appointment. "My mate is going in there – Big Nige – and he's already been on, asking me if I'd move into a flat with him but I've politely declined," he says, smiling, "because, hopefully in the near future, we're going to be on the touchline and we'll be having competitive matches."
Barton is awaiting trial after an alleged confrontation with the former Barnsley manager Daniel Stendel. Barton has previously pleaded not guilty to a charge of assault occasioning actual bodily harm and the proceedings are due to begin in June. He acknowledges his reputation sometimes precedes him but his ambition is clear. "It is about time Rovers had some success and that's what we're here to deliver," he says.
"I haven't come here to take part, to be involved in the bottom end of the table, albeit that's where we are at this moment in time. When I sat down with Wael, we spoke about his vision and I thought 'I can't miss this opportunity.' I'm just so excited about what the future holds because it is about time Rovers had their day in the sun."