Christian Benteke volleys Crystal Palace to smash-and-grab victory at Brighton | Premier League
Goals change games and sometimes leave you questioning your sanity, too. As the clock ticked past 94 minutes there was only one way to frame Crystal Palace's performance. They had conjured up two shots to Brighton's 25 and, at that point, taken a single touch in their penalty area.
It had been a joyless offering, illuminated briefly and unexpectedly by a sweet piece of improvisation by Jean-Philippe Mateta before the half-hour.
At best it would be a rot-stopping, face-saving draw when they dared not lose; a less generous reading would have called it proof positive they are deep in a rut and that without Wilfried Zaha any pretence at proactivity is hurled out of the window.
Whatever this actually was, it will be defined by what happened next.
Palace had hardly been near Brighton's area since Mateta's goal and had rarely entered their half. But Andros Townsend, who had virtually operated as a second left-back, attempted one last show of initiative and managed to loft a high, deep cross beyond the six-yard box.
Christian Benteke had pulled off the back of Dan Burn and, following the flight of the ball perfectly, shaped to volley from an angle. He caught it magnificently: his strike arrowed across Robert Sánchez and those who had witnessed what preceded it found the courage of their convictions brutally shaken.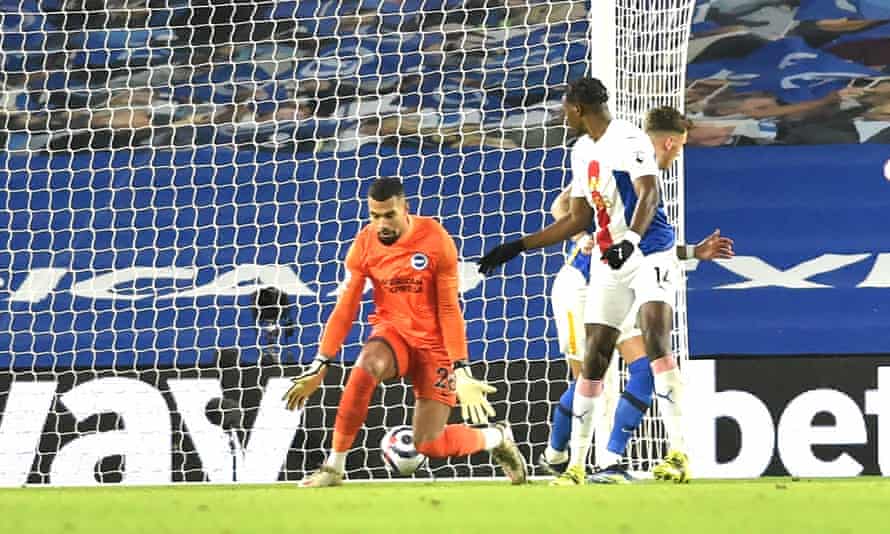 The perfect away performance? A sheer fluke? A sticking plaster? Credit must be given where due: Palace needed this win, given the paucity of recent offerings and the growing dissatisfaction among their fanbase with mid-table football and soporific displays. Roy Hodgson had advised the malcontents to be careful what they wished for but had Brighton converted more than one of their 25 shots and made count the flurry of chances they created after Joel Veltman's equaliser there might have been little to hide behind.
Anyone feeling dazed and confused was quickly put in their place by Hodgson. "The game's not about touches in the opposition box, is it?" he said. "It's about scoring goals and not letting any in. We were fortunate that the couple of chances we did create, we took. I'm not going to apologise for what we consider a very good victory."
Nobody suggests he should. Perhaps analysis can defer too easily to the need for a grand plan when it is important to live in the moment. Palace lived on the edge but their two moments of incision will survive in this fixture's lore.
They had not laid a glove on Brighton before Mateta scored but it was a marvellous finish, backheeled first-time past a surprised Sanchez after Jordan Ayew had made ground down the right and crossed.
Mateta had no space for an orthodox shot, with Ben White tight to his left shoulder, and the towering loanee from Mainz showed why he will cost a fair penny if that move is made permanent.
In contrast to their visitors, Brighton had arrived feeling comfortable in their own skin. They passed, probed and rotated with the confidence of a side unbeaten in six games, but could not create a clear first-half chance. Danny Welbeck's arrival after the interval transformed things. When he was tackled, the excellent Veltman swept in the loose ball.
Palace clung on in the following 20 minutes, Vicente Guaita blocking from Welbeck and Leandro Trossard – twice – in the same sequence before Adam Lallana skied two presentable chances.
Benteke, on as a substitute for Mateta, shot high and wide in an isolated Palace foray but a smash and grab never felt likely even to those of the most battle-wearied disposition.
"It's the beauty of football, although it doesn't feel so beautiful at the moment," said a generous Graham Potter. "It felt like it was going to be a matter of time before we got something in their goal and to lose in that manner is a blow."
His team cannot shake off the spectre of a return to the relegation dogfight. One benefit of Palace's stasis is that they sit well clear of danger and Hodgson could bask in the night's signature flourish.
"Sublime, really," he said of Benteke's strike. "He's found himself quite often in shooting positions and it's not always been the shot he tried to execute. That was certainly a clinical finish and the shot he wanted to play."
It was probably praise but, as with everything that had come to pass, perhaps deeper interpretation is best postponed.